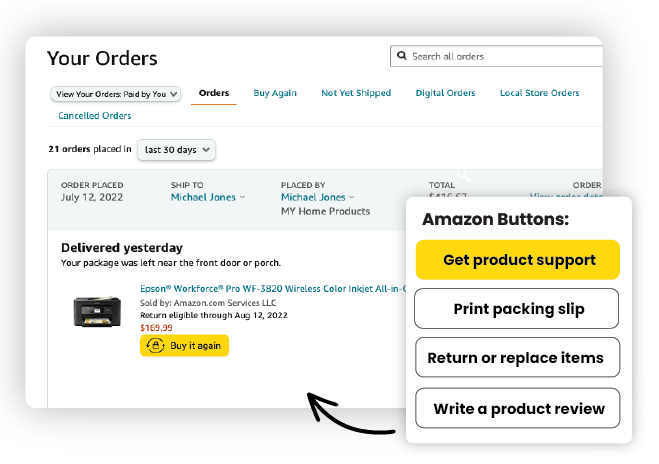 Congratulations! Your annual sales on Amazon have been increasing reliably over the past few years, and your brand is making a name for itself. However, while your inventory is moving faster than ever, so is the number of items being returned to you, posing a few financial and reputational hurdles that can stop growth dead in its tracks.
Shoppers can return purchases for various reasons – maybe it didn't fit, they couldn't figure out how to work it correctly, the quality wasn't what they had expected, some items might be missing or broken, etc. So many of these can be mitigated, or eliminated completely, with simple and effective product support.
Regardless of the brand's size, a strong product lifecycle support (PLS) function is crucial to retaining your customers. Don't get caught in the trap of thinking that fresh sales are the only thing to focus on – that's how you gain customers, post-purchase care is how you keep them. A single return on Amazon can take up to three new sales to compensate: between your initial advertising spend, the FBA fees, the return processing fees, and other costs involved with the initial sales, the outgoings can add up.
That's where Onsite comes in.
Onsite's platform is designed to help brands maximize their capacity to provide product support, thereby reducing returns and negative reviews. The name of the game is extending the lifecycle of the product – here's how Onsite helps:
‍
‍Get product support
Onsite's solution is simple: a single button integrated directly onto the customer's order page on Amazon, which will take them to a customized support landing page for the brand. A shopper's order page is seldom one they visit in a good mood – it's usually to write a review, return an item, or try to figure out where their late delivery is. The button customers the ability to either fix their problem themselves or get in touch with a brand directly.
Onsite takes care of the page's development, designed around the brand's unique needs and requirements, to provide a one-stop shop for the brand to handle all of its product support. The team will do an audit to determine what the main reasons for return are and formulate the support page to address those specific issues.
The landing page should have everything a customer needs to be able to learn about, and then troubleshoot, the problem on their own. How-to videos, product guides, step-by-step instructions, FAQs, live chatbots, you name it. Remember that even for the customer, returning an item is never a fun experience – they bought it for a reason and want it to work. With a product support page linked to their order, you'll be in the best position to give them the tools they need to make the product work how they want it to.
Source: Onsite
Ideally, a customer will get to a landing page, be able to successfully fix their problem, and go on with their day. Even if the problem is something that can't be fixed immediately – for example if one item in a pack is broken – the brand can still score a win. If the customer can communicate directly with the brand about the damaged item, for example, they could just have an additional one shipped to them rather than going through the costly returns process.
A massive additional benefit is that by minimizing the sources of frustration, having a product support button will also reduce the number of negative reviews for your product, which could be deadly, especially for younger brands.
The button serves as a simple and highly-effective way to connect with customers, improving the experience both on the sell-side and the buy-side, and allowing brands to avoid a litany of problems that have a real effect on the bottom line. Reach out to Onsite to see how a customized landing page can improve your business today.