Walmart is now ranked as the 2nd largest e-commerce retailer in North America after its 2023 1st quarter sales grew by 27% compared to previous periods. This growth comes from customers valuing Walmart's convenience and speedy delivery and its growing assortment of third-party sellers.
This is great news for anyone who is already selling on Walmart or who plans to join its third-party marketplace. However, this opportunity also presents its own challenges. Adding another online platform to your already crowded sales mix creates an extra burden for your customer service (CS) team. Fortunately, there's a Walmart customer service app to the rescue: Onsite Support.
Importance of Customer Service for Walmart's Third-Party Sellers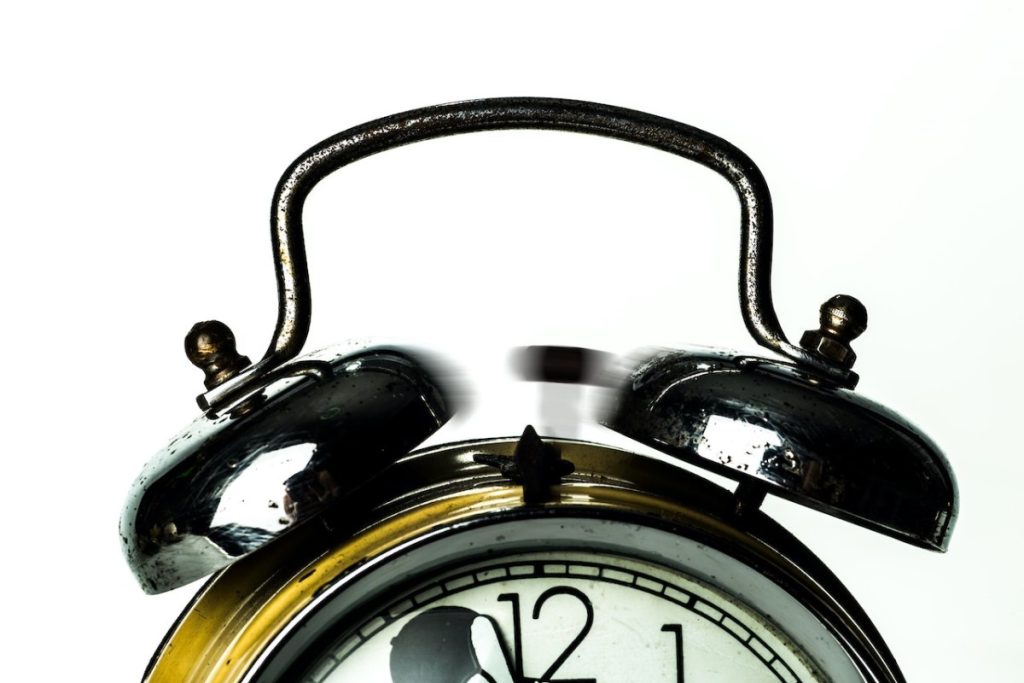 In Walmart's Seller Center, you will receive customer messages and must respond within 48 hours. Timeliness is crucial, and Walmart imposes penalties for sellers who have a lower than 95% on-time response rate.
The best way to stand out in Walmart's marketplace is to offer exceptional customer service. Research shows that 88% of customers value the experience they get as much as the company's products and services. In fact, 94% of consumers are more likely to become repeat customers after a positive customer experience.
By offering excellent customer support, you gain their trust and ensure their loyalty—and avoid getting penalized by Walmart.
Benefits of a Walmart Customer Service App
Adding another sales channel to an already overburdened customer support team is challenging. The team has to constantly stay on top of product inquiries, order concerns, and customer complaints in a platform that may be entirely new to them.
With a Walmart helpdesk, you can address all these challenges and offer excellent customer service without giving your support team another interface to deal with.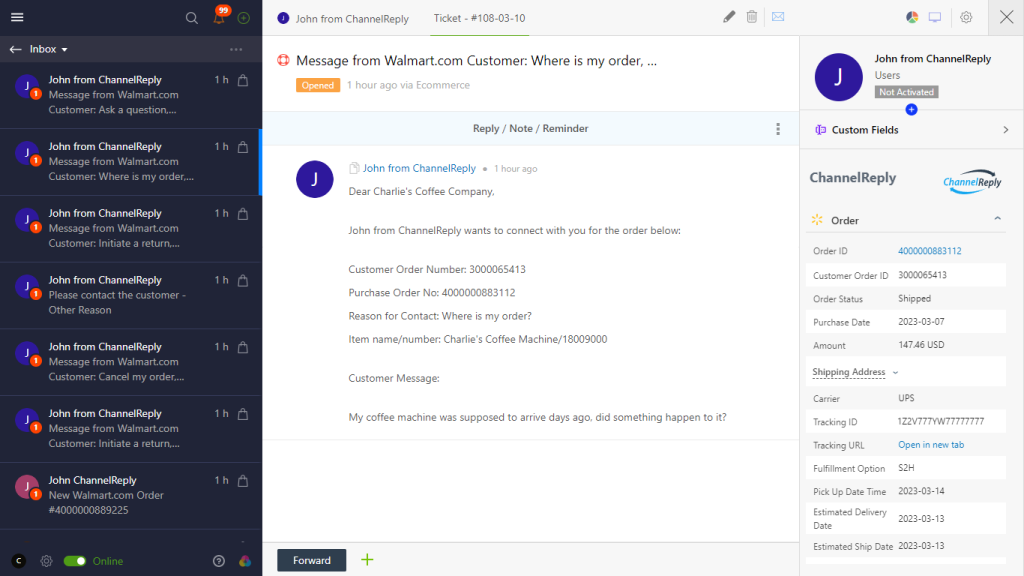 Above: A Screenshot of a Walmart message in Onsite Support. Order data is displayed on the right with ChannelReply, a completely free add-on for all Onsite users.
Here is how Onsite Support can help:
Faster issue resolution: With a dedicated app, you don't have to navigate through the Seller Center just to find customer messages. Your team can quickly address them within Onsite Support, reducing response times and ensuring issues are resolved more quickly.
Centralized inbox: If you're selling on multiple channels like Walmart, Amazon, and your own website, answering customer inquiries on each channel can be time-consuming. Onsite offers a centralized platform that empowers you to answer customer concerns without switching apps.
Above: Supporting an Amazon customer from the same screen in Onsite.
Personalization: The app gathers all relevant customer data, such as their order number, shipping status, tracking ID, and estimated delivery date, so you can provide personalized service that not only delights customers but also ensures issues are solved quickly.
Cost savings: Forget about hiring additional team members to handle Walmart's separate customer service portal. An integrated Walmart helpdesk enables your existing CS team to provide efficient customer support in the interface they already know.
Data insights: You can collect valuable customer and order data, which can be used to improve your services and product offerings.
Because of Walmart's strict customer care requirements, you can't afford to neglect your customers. Even if these are just simple inquiries about sizing or alternate colors, you have to provide timely and high-quality responses.
With a Walmart customer service app, you won't just meet Walmart's requirements; you will also exceed customer expectations with professional and timely customer service.
Provide Exceptional Walmart Customer Service with Onsite Support
Onsite Support is an official Walmart Specialty Solution Provider dedicated to helping Walmart sellers comply with the platform's customer care requirements and provide efficient and timely support to their customers.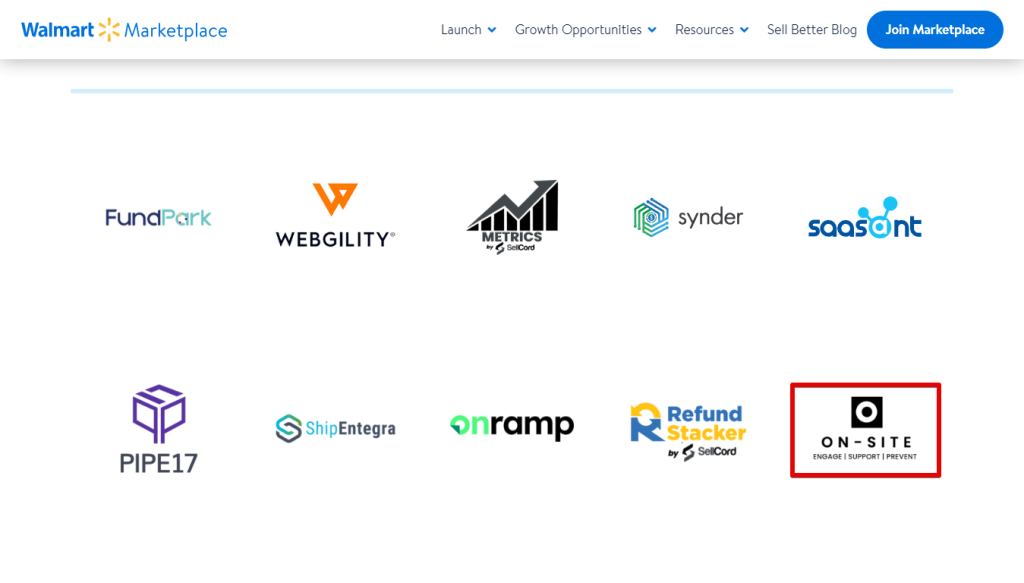 Above: Onsite Support on the list of Walmart Specialty Solution Providers.
With Onsite Support, you can:
1. Quickly Resolve Customer Concerns without Leaving the App
Is a customer requesting a refund or asking for updates on the shipping status? Resolve the concern right within your Onsite Support dashboard. You can perform powerful in-app actions like issuing refunds, canceling items in an order, and updating the shipping status without leaving the conversation.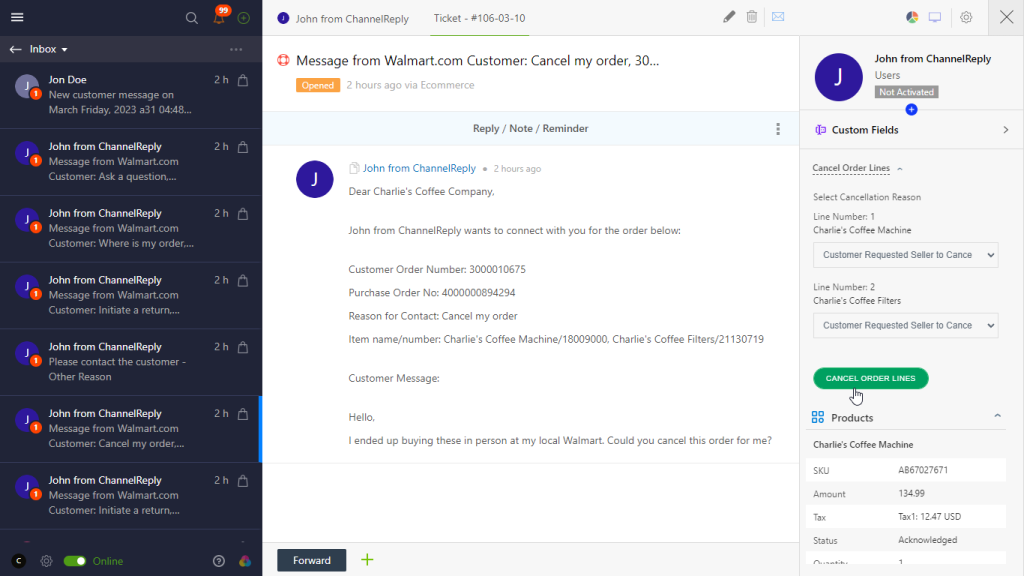 Cancelling a Walmart order from within Onsite.
This allows you to meet Walmart's 48-hour response window and quickly resolve the customer's concern. With a quick resolution, you can even turn around a refund or return request and win back a customer.
Bonus Walmart Feature for Amazon FBA Sellers: Multi-Channel Fulfillment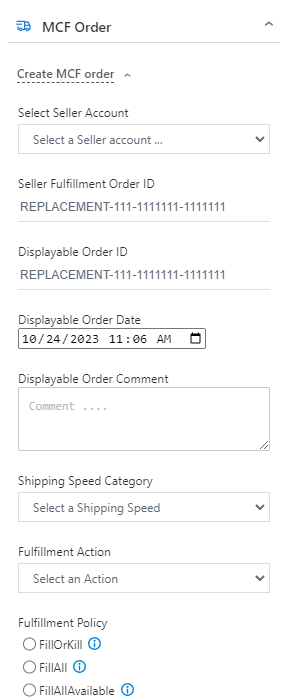 Above: An example of the Amazon Multi-Channel Fulfillment form available in Onsite.
Onsite Support uses ChannelReply's Amazon Multi-Channel Fulfillment feature so you can order shipments of your items from Amazon's FBA warehouses and deliver them straight to your Walmart customers on the support ticket. This helps you instantly replace defective or broken items, preventing them from escalating further.
2. Create High-Quality Canned Responses That Meet Walmart's Specifications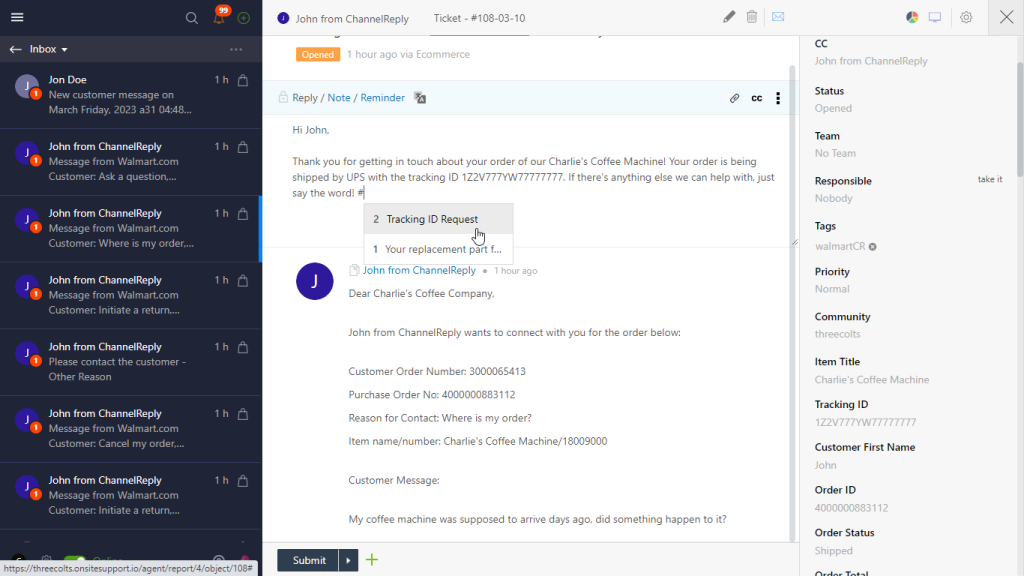 Above: Answering a Walmart customer's request for their tracking ID without typing a single word.
Walmart encourages the use of templates that help sellers respond faster. Every Onsite Support account has full free access to ChannelReply, which has custom fields that let you create high-value canned responses. You can use these to build templates that become deeply customized and personalized when entered on a ticket.
With two clicks, you can quickly answer most customer queries about details like tracking ID, shipping status, and estimated delivery date, with zero typing required.
3. Build Autoresponders That Are Actually Helpful
Walmart views auto-reply messages as low-value communications and prefers that a seller personally communicate with customers. You should therefore never rely on autoresponders to count as replies within 48 hours, and you should avoid creating auto-replies that require multiple follow-ups.
With that said, Walmart does not forbid the use of autoresponders, only discouraging it in favor of human responses.
If you want to give them a try, ChannelReply's custom fields work just as well in Walmart autoresponders as in canned replies. You can automatically answer all the most common questions like "Has my order shipped?" or "What is the tracking ID for my package?" before you've even seen the customer's question.
With high-value autoresponders, you can cut back the resolution time and help agents attend to more customers, especially during peak hours. Of course, agents should still personally attend to customers as fast as they can to ensure queries are resolved fully.
If you already have an Onsite account, you can learn how to set up a Walmart autoresponder here.
4. Answer Messages from Multiple Channels in One Place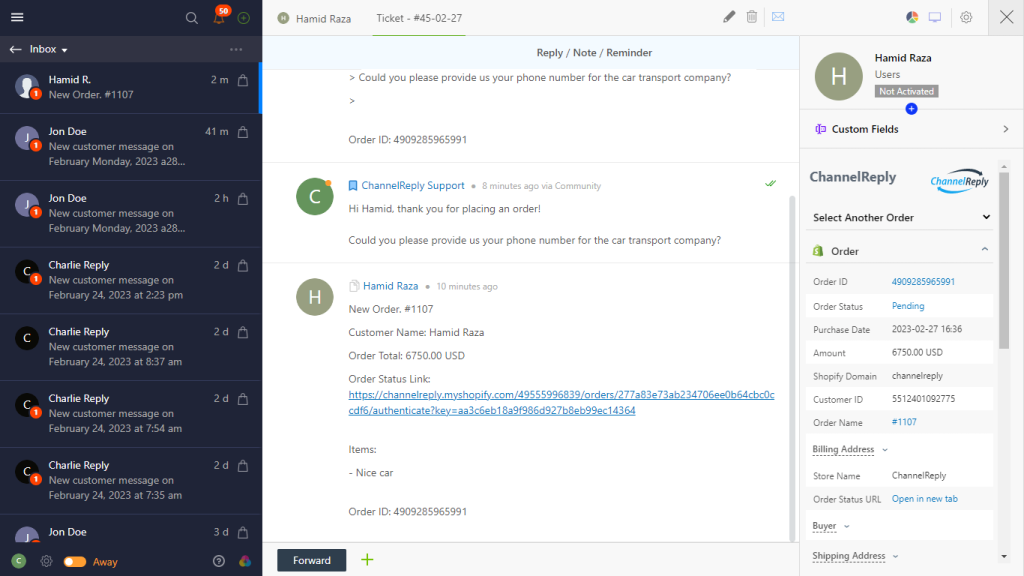 Above: A conversation with a Shopify customer in Onsite.
Onsite Support, through the free ChannelReply integration, connects your Walmart account to a centralized customer service platform. This is a single interface that also consolidates customer concerns from other platforms like Amazon, Shopify, and eBay. You can also respond to customer queries from your social channels like Facebook, Instagram, and X.
As a unified platform, Onsite Support increases your team's productivity and organizes customer interactions. Even if a customer uses Facebook to ask about their order, you can quickly access their Walmart order details with a centralized database and issue a resolution.
In case of long conversations, you can stay on top of them using ChannelReply's capability to automatically thread tickets. And if you're supporting customers who speak a different language, Onsite Support's integration with DeepL Translate or Google Translate lets you provide multiple-language support.
5. Better Manage Your Customer Service Team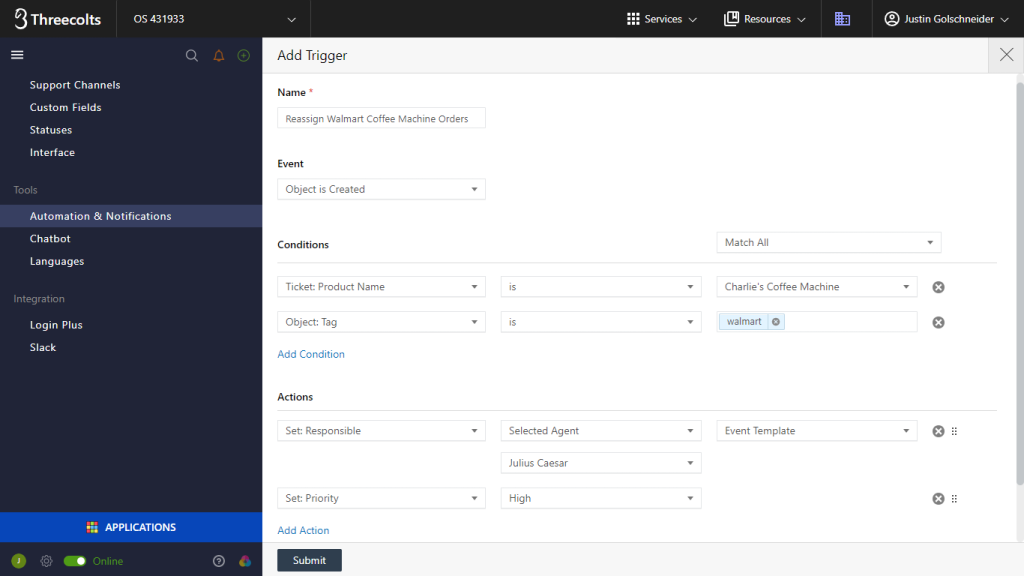 Above: Building a trigger to automatically reassign and reprioritize Walmart tickets about a specific item.
Onsite Support gives you the ability to assign tickets to suitable agents according to priority, as per their workload or simply via round robin algorithm to distribute work evenly among all the agents. You can also set triggers to perform automated actions to reassign tickets in case certain Walmart conditions are met, such as if the ticket is about a specific SKU. This is helpful when customers need expert support.
You can also track which agent sent the reply, building accountability and transparency within the team. You can group agents by expertise, restricting access to certain types of tickets to a dedicated team of Walmart experts who can be tapped for a higher level of support.
6. Learn More about Your Customers with Analytics and Reporting

Above: A First Reply Time report.
Discover customer trends, buying patterns, and other relevant data to build your business better with Onsite Support's reporting and analytics. You can even create reports on Walmart order data from ChannelReply, analyzing tickets based on specifics like which item the customer contacted you about.
This not only helps you provide exceptional support, but also gives you deeper insights into the performance of your products and your business.
Tips to Provide Outstanding Customer Support on Walmart Marketplace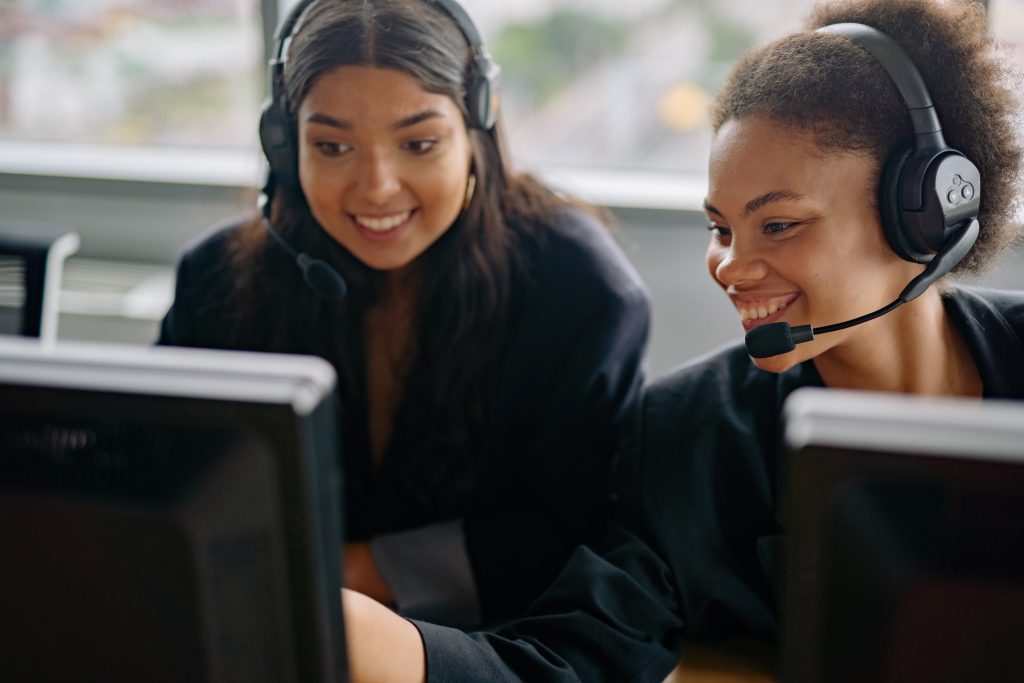 Attract more customers and ensure a successful Walmart store with these customer service tips:
Always respond to customer inquiries and messages promptly. Walmart has very specific response time requirements, so be sure to meet or exceed these standards.
Provide clear and accurate information in your responses. If you don't know the answer, acknowledge the question and commit to finding the information.
Maintain a professional and polite tone in all customer interactions, regardless of the nature of the inquiry or issue.
Ensure your product listings have accurate and detailed descriptions, including specifications, features, and any relevant information to prevent customer confusion.
When issues or disputes arise, focus on finding a fair and mutually beneficial resolution. A satisfied customer is more likely to leave positive feedback.
Familiarize yourself with Walmart's seller policies and follow them meticulously to avoid issues and potential penalties.
Keep an eye on customer reviews and ratings, and respond to any negative reviews professionally and empathetically. Demonstrating your commitment to resolving issues can turn a negative experience into a positive one.
Stay updated on Walmart's policies and best practices for customer support, and train your team to provide consistent, high-quality service.
Providing outstanding customer support is an ongoing process. Consistency and a commitment to improvement are vital to maintaining a positive reputation and growing your business on Walmart Marketplace.
Be a Preferred Walmart Marketplace Seller with Onsite Support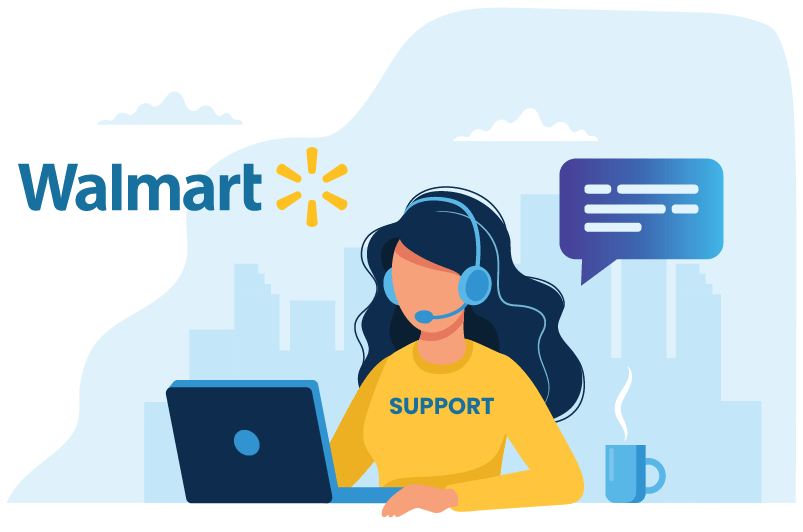 As Walmart's market share continues to increase, being an active and preferred seller on the platform is an investment that will pay off in the not-so-distant future. When you grow your business on the platform, you'll be sure to attract loyal customers who will help build your brand as more people turn to Walmart for their needs.
Onsite Support offers you the ability to provide exceptional customer service, streamline your operations, and create a shopping experience that keeps customers coming back. It equips you with a Walmart customer service app to handle inquiries, resolve issues, and ensure that each customer interaction is not just satisfactory but exceptional.
Don't miss this opportunity to build a stellar seller reputation and grow your e-commerce business. Sign up for Onsite Support and set your business on a trajectory toward success.